Fresh Meal Service is more than just receiving a hot meal at your door, it is a whole experience that you deserve. Here are a few commonly asked questions that I would love to answer for you.
What is Fresh Meal Service?
Fresh Meal Service is a service provided in the Regina Beach/Buena Vista area. It is a hot, nutritious meal delivered to your door weekly. The main feature of these meals is that every ingredient is selectively chosen with everything made from scratch resulting in a delicious tasting, but nutrient dense meal. It provides you an opportunity to try something new, to eat healthy and clean without all the prep work, to have a night off of cooking and enjoy a homemade meal in the comfort of your own home. With many of the meals being organic, gluten free, dairy free, no refined sugars, it will open up a whole new culinary experience and appreciation of healthier eating. These meals can be enjoyed by everyone!
Where do you source your ingredients?
This is an area I spend a lot of time on, as it is very important to me and my business. My ideal goal would be able to use all local and organic ingredients 100%. Unfortunately this isn't an option but I do incorporate this as much as I can. I share all our very own garden goodies with you and I hope to expand this in 2016. I do purchase local ingredients such as honey, produce & beef and work along side with Body Fuel Organics and Organic Matters to help fill in with most of my other needs. By purchasing local and organic, it can assure us that our food is at its nutrient peak and not full of harmful chemicals. It also supports other local businesses in our surrounding area. You can feel good about knowing where your food is coming from, because I do.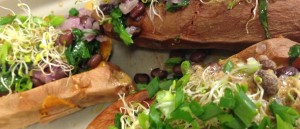 Where is the food prepared?
The food is prepared in a inspected, licensed facility in our home. This is a gluten friendly facility, however I do have wheat containing products in there from time to time. Along with this, I also have training in food handling and safety.
What if there are certain types of foods I can't eat due to allergens or sensitivities?
Prior to receiving your meal, we will discuss any food sensitivities/allergies. This is NOT a nut free facility. Most of the menu is gluten free/dairy free and if it is not, it can be made upon request. I can also accommodate most other sensitivities/allergens, however, if your reactions are quite severe to some products that are in my kitchen we unfortunately have to reconsider your service.
What if I won't be home at time of delivery or away one evening?
If you will not be home at time of delivery but soon after, just tell us a safe location area that we could leave the food for you. Leaving out a cooler in this spot is optional but a great idea. If there is a specific week you know you will be away at time of sign up, I will take note of this and you will not be charged that week. If something has come up last minute, as long as it is 24 hours notice, I will credit this meal. In the case where there is not 24 hours notice, I will unfortunately have to charge you for this meal.
Do I have to sign up for the whole month? year?
Preference is for you to sign up for a whole month at a time. This gives you a good time frame to experience Fresh Meal Service. This service does run for all 12 months but there is no need to sign up for the whole year at once. Fresh Meal Service is available either Tuesdays or Thursdays. At the end of each month an email will go out with the next months menu along with any important information, upcoming events etc. At this time you can confirm if you will or will not be continuing on to the next month.
How much does it cost and what is all included?
The cost of each serving is $17.00. You can sign up for as many servings as needed for the meals each month. Example for a family of 3: you will receive 3 servings each Tuesday or Thursday, that is $51/week.
Delivery is included if your home is within our free delivery zone or we are already in your are with additional deliveries. We do try to coordinate your delivery dates with others in your area to avoid this charge. If this is not possible, a $10 /month delivery charge may be applied.
How do I sign up?
It is very quick and easy. Contact me prior to the month you would like to begin . I will provide an information sheet that will cover food sensitivities and any special instructions. Payment can be made via etransfer or cash/cheque prior to meal service beginning. Mark down on your calendar that your meal will be arriving between 5-6pm the day of choice and enjoy!
Contact Info:
Ph/Text: 639.571.8539
Email: brianne@simplespoons.ca
For more information and to view an updated menu please visit www.simplespoons.ca